Why Project Requirements Should Be Required
When a project fails, blame is often thrown in many directions: lack of budget, technology issues, or communication gaps. Yet root cause analysis frequently reveals project failure begins in requirements that are poorly scoped or lacking in end user input. Some reports have gone as far as estimating 71% of project failure is the result of poor requirements management. Project Managers that fully understand the significance and complexity of customer requirements can better ensure successful project outcomes.
What Are Project Requirements
Project requirements can be thought of as the descriptions for the final deliverables. Consider this example: you are going to remodel your kitchen and your general contractor asks: "how do you use your kitchen the most – to cook for yourself? for large gatherings? as a home office space?". In that conversation, your general contractor is being a project manager and collecting your input as the end user so that the work to create your new kitchen can be planned. The general contractor should also ask you questions such as: "how long can you go using a temporary space while the new kitchen is built? what is your budget? who can approve any material or design purchases?". Your customer input is being used to scope the project duration, cost, and approval process.
In its essence, project requirement capture two things: what are you creating and why are you creating it?

Requirements can be complex and vary by customer even if the project seems the same as previous projects. Because of the many variables and the strong tie to potential project failure, the Project Management Institute's official Project Management Book of Knowledge lexicon lists these requirement tools:
Good tools are important. However, the strongest path of requirements gathering and management lies in the Project Manager's ability to adjust to client changes and the thoroughness of the requirements documented.
Customer Is Right…Until They Aren't
Back in 1909, entrepreneur Harry Gordon Selfridge coined the phrase: "the customer is always right." Yet when Project Manager only agrees with the customer it almost always leads to project failure. How can that be? This famous Project Management picture from an unknown artist captures it perfectly: failure to confirm what you are making leads to failure.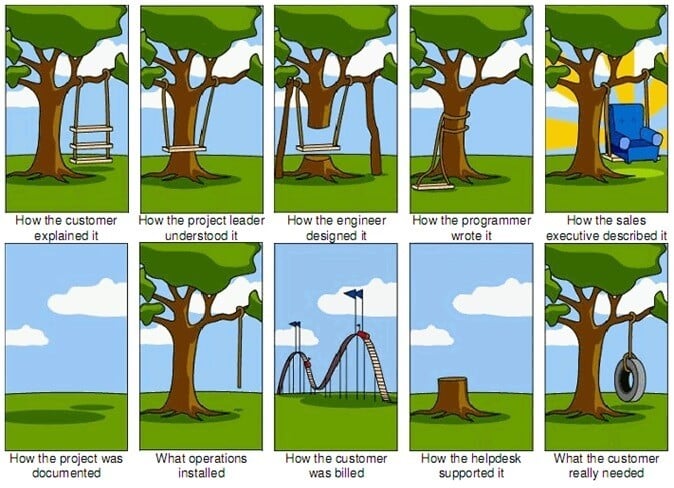 For each block in this cartoon, the customer/stakeholder is fully confident that everyone else is working on making the exact same thing. If the customer is always right, how can there be 10 variations of the final swing deliverable?
One of the most important things to remember when working as a project manager is that you should never only agree with customers. This often leads to misunderstandings and could result in not being able to deliver what your customer wants.
The Project Management Institute's official Project Management Book of Knowledge lexicon does not list a formal definition of "Requirements" but even if it did, it would not convey the complexity as well as this graphic. Businesses need project managers who definitely get customer input, but have the training to know how to make the "distinction between the customer's perception of his/her business needs" and the project. When you have the training to ensure strong customer relations and accurate requirements, you make yourself more valuable to your company and within the job marketplace.
Failure In Requirements Leads to Project Failure
Project Management Institute (PMI) published research reveals the dramatic impact of good or bad requirements gathering and management on a project:

Simply put, if the initial customer needs are not accurately determined, what is created by the project will likely fail.
---
Studying for the PMP Exam?
---
How Can You Get Requirements
The first step is to include requirements gathering in your project work. Many teams want to jump into the actual creation, but without solid requirements, they will not be creating what is needed. Requirements apply in any project (product creation, product enhancement, software development, manufacturing, process improvement, problem resolution, etc.) and in all types of industries (Banking, Education, Health, Manufacturing, Technology, etc.).
The need for project managers in businesses is increasing as their responsibilities are broadening. As a result, the demand for highly skilled and experienced professionals with strong technical skills will continue to rise. As businesses recruit, they seek to retain project managers with strong requirements gathering and management skills. Some example gathering tools include:

How can Project Managers Improve Requirement Managing Skills
As a Project Manager, you should actively develop the soft and technical skills needed for effective requirements gathering no matter the project methodology used at your company. Use Project Management Fundamentals training for the core elements in the Project Management Professional Certification, including Requirements Management. In Agile Fundamentals, Project Managers use user stories and acceptance criteria to capture the voice of the customer. Any Project Manager will benefit from Managing Client and Stakeholder Expectations training as requirements are directly connected to client input.
Strong requirement gathering at the start of the project, with requirement management throughout, will help any project manager increase the probability of project success. Make sure to get thorough requirements at the beginning of a project. It's important for setting expectations and making sure everyone is on the same page from day one.
Upcoming PMP Certification Training – Live & Online Classes
Name
Date
Place
PMP Certification Training
Oct 16,17,18,19
8:30am-6:00pm
Rockville, MD
View Details
PMP Certification Training
Nov 13,14,15,16
8:30am-6:00pm
Rockville, MD
View Details
PMP Certification Training
Sep 28,29 & Oct 5,6
8:30am-6:00pm
Online - Eastern Standard Time (EST)
View Details
PMP Certification Training
Oct 16,17,18,19 8:30am-6:00pm
Rockville, MD
PMP Certification Training
Nov 13,14,15,16 8:30am-6:00pm
Rockville, MD
PMP Certification Training
Sep 28,29 & Oct 5,6 8:30am-6:00pm
Online - Eastern Standard Time (EST)
---