New PMP Exam in 2021: Why It Matters for All Project Managers
Gaining marketable skills, earning a globally recognized certification, and learning from verified training providers, is the best way to invest your personal training budget. Working towards a Project Manager Professional (PMP ®) certification, with PMP holders earning 25% more than counterparts without it, is an important professional goal. Make sure that you are informed about the PMP process and your training investment will have the needed returns. With the PMP® certification exam changing on Jan. 2, 2021, all project managers should know the content changes and how to prepare for exam.
What's Covered in PMP Exam Prep Course
For Project Managers who want to stay current with PMP® exam changes and those seeking to gain their PMP certification in 2021, it is important to complete a prep course. As a Premier partner of PMI's Authorized Training Partner (ATP) Program, Project Management Academy (PMA) teaches the PMI Authorized Exam Prep course materials, with exclusive lessons to ensure PMA students have a deep understanding of the content and are prepared to pass their exam. The PMP Exam Prep for 2021 class is structured to both upskill existing Project Management skills and to prepare to earn their PMP certification. Here's an overview of what's covered in the PMA certification boot camp: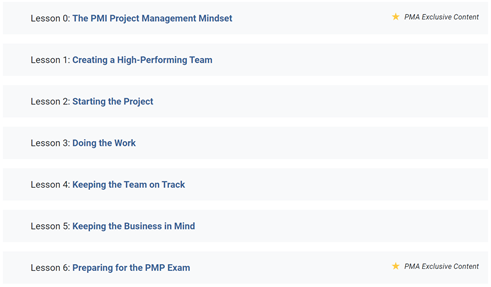 ---
Studying for the PMP Exam?
---
New Topics Covered on the 2021 PMP® Exam
Make sure that your PMP exam prep class has targeted lessons designed to help you to understand the major areas of change with the new 2021 PMP exam. Here are a few of the newer topics that will be covered on the new 2021 PMP exam:

Focus on Business Value via Agile Tools
No matter what type of Project Management methodology you practice, you should always be focused on the value the work deliverables bring, no matter what they may be. In the new PMP Exam Prep course, you will learn how to assess opportunities to deliver value incrementally.
And unlike in previous exam prep courses, the 2021 edition teaches you how to deliver the most value first with:
Minimal Viable Product (MVP) – a portion of the project that has the most value is realized through this delivery of the project
Minimal Viable Increment (MVI) – this is an increment of delivery that allows a usable part of the project to be delivered
Project managers must communicate, and that includes communicating the value of incremental delivery to all stakeholders. In the new PMP Exam Prep course, you gain understanding of how to:
help teams to understand the customer/business
allow the customer to provide feedback
create a sense of urgency to deliver part of the solution
Realize Effective Teams Via Team Management Strategies
All project success stories begin with a team. And in the new PMP Exam Prep course, the highly valued and critical skills around fostering a productive, effective, and high-performing team are fully addressed.

In our global economy, it is important to be able to work with others who may be geographically distributed, and also diverse in their backgrounds, skill sets, and experiences. The new PMP Exam Prep course will help grow your understanding of the benefits of creating an inclusive team that celebrates diversity and the positive results that can bring.

Among other changes from past prep courses, in 2021 the leadership component of Project Management is more fully addressed. Project Managers leverage a complex set of skills to motivate, guide, and yes, lead others towards the business goals. No matter where you are in your Project Management career, you should know of leadership styles and when each is most appropriate.
Autocratic Leadership – leader makes the decision
Democratic Leadership – team is included in decision making, but leader ultimately makes the decision
Laissez-faire Leadership – hands-off approach. Team makes decisions
Transformational Leadership – Inspire and motivate their team
Charismatic Leadership – Similar to transformational, but focus is on themselves
Foster High-Performing Teams Using Emotional Intelligence
Research indicates our success in work and life is about 80% emotional intelligence (EQ) and only about 20% cognitive intelligence (IQ). Emotional Intelligence is the ability, capacity, and skill to identify and assess emotions in order to manage self, other's, and groups.

Unlike previous PMP® Exams, in 2021 Project Managers will be expected to demonstrate their understanding of EQ, coaching and the connection to team performance. In this new exam content section, the Project Managers will learn about EQ and how to:
understand Emotional Intelligence for self and others
apply sound coaching, facilitator, mentor, and teacher skills
understand how to navigate tough conversations
know conflict management strategies
identify individual motivation
analyze personality indicators and adjust to the emotional needs of key project stakeholders
Any Project Manager who has stakeholders, team members, clients, and/or suppliers will benefit from an increased understanding of how emotions are different for each person and how to navigate that to reach project success.
Why Everyone Benefits from PMP® Exam Prep Training
With content including Evaluate Project Value using Agile Tools, Effective Team Management Strategies, and Emotional Intelligence among others, the new PMP Exam Prep training course is broadly applicable to Project Managers. The benefit is that the content applies to your current Project Manager work and ensures you stay current with your chosen profession. If you have obtaining the PMP certification in your 2021 career goals, get focused training and ensure your training provider is PMI Authorized Trainer; you want to ensure your financial investment and your time investment is protected.
Project Managers of all experience levels should always be continuous learners who prioritize their development to ensure their professional relevance and value.
Upcoming PMP Certification Training – Live & Online Classes
Name
Date
Place
PMP Certification Training
Oct 16,17,18,19
8:30am-6:00pm
Rockville, MD
View Details
PMP Certification Training
Nov 13,14,15,16
8:30am-6:00pm
Rockville, MD
View Details
PMP Certification Training
Oct 2,3,4,5
8:30am-6:00pm
Online - Eastern Standard Time (EST)
View Details
PMP Certification Training
Oct 16,17,18,19 8:30am-6:00pm
Rockville, MD
PMP Certification Training
Nov 13,14,15,16 8:30am-6:00pm
Rockville, MD
PMP Certification Training
Oct 2,3,4,5 8:30am-6:00pm
Online - Eastern Standard Time (EST)
---